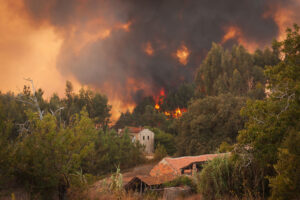 Californians have recently been displaced by the millions due to raging wildfires. Although the wildfires affecting Redding, California and surrounding areas have been especially bad this year, wildfires in California are nothing new. Therefore, it is imperative to have an attorney, such as Mark Cibula, on hand who has years of experience helping victims in their claims on property losses due to California wildfires.
Homes and workplaces across California have reported significant losses related to the latest wildfires. An attorney like Mark Cibula is invaluable to have because fire damage victims often do not know what to do or where to turn for help. Losing a home or your workplace can be traumatic enough, without having to then deal with release statements and waivers that you might not even understand. Consulting with an attorney before signing anything of this sort is highly recommended so that you aren't missing anything important for your claim.
You may be entitled to significant compensation for a damaged structure or the emotional distress caused by the recent wildfires in Redding, California. An experienced attorney can ensure that you get maximum compensation and do not sign any documents prematurely that could result in your waiving away the right for future compensations. If you were displaced by the recent wildfires, then you may also be entitled to additional compensation related to the living expenses that you incurred due to wildfire displacement (e.g., hotel expenses).
(There are thousands of vineyards and farms throughout California. If these were affected by the recent wildfires, then owners may also be entitled to significant compensation, which may include, but not limited to, compensation related to emotional distress.)
Many wildfires are eventually linked to negligence by oil, gas, or electric companies. You will be best served by having an experienced attorney on your side so that you remain apprised of new facts or potential lawsuits against these negligent companies. Oftentimes, if such a company is found liable, they will try to claim that the wildfire was, in fact, caused by shifting climate conditions. Attorney Mark Cibula can ensure that you receive all that you should for damages related to a negligent company or any bad actors.
There may be multiple parties responsible for property damage linked to wildfires. Attorney Mark Cibula can help you identify the causes of your property damage and any parties that need to be held accountable. After identifying responsible parties, you may find that you have to fill out forms given to you by your insurance company or that your insurance company only agrees to partially compensate you for the recent property damage. That's unacceptable, but often missed without professional help.
You deserve full compensation for the property damage or emotional distress that you and your family have been through due to the recent wildfires raging through California. Intuitively knowing how to achieve the maximum compensation and proper aid for property damage related to wildfires in California is not a skill in most people's wheelhouse.
Please reach out to Attorney Mark Cibula today for help navigating the uncertain times ahead. A consultation can be a burden lifted. You will finally be able to discover all of your options moving forward and achieve the maximum financial compensation for your property loss claims.